---
U.S. Navy/US Army Air Corps AN-6552 Flight Jacket by American Sportswear (Size 44)
---
For reference, model is 6 foot 1 inch and 200 lbs.


---
Description & Measurements
---

Up for review is a rare 1943 WWII AN-6552 flight jacket made by American Sportswear in a nice big size 44. The AN-6552 jackets were originally designed to be a joint service (Navy, Marine Corps, Army Air Corps) jacket to replace the Navy/USMC M-422A and AAC A-2. These jackets were made for only a six month period in 1943 by American Sportswear, Bogen & Tanenbaum, Monarch, Willis and Geiger, and H&L Block. The American Sports jackets are thought to be one of the most common of the AN-6552 run but with a manufacturing period of only six months and sixty years of use/storage there are not many of these aroudn anymore!

This jacket exhibits several unique characteristics which are worth describing. First, as a joint service jacket a "USN" stencil used on M-422A and later G-1 jackets is replaced with a "US" stencil. Second, the AN-6522 series used a black painted main zipper, however, the other manufacturers typically used a nickel zip while American Sports chose a brass Conmar (H&L Block used a brass Talon). The bell shaped pull on this Conmar has a round hole as opposed the half round hole used in the earlier M-422A jackets and the later G-1 variants. Third, the armpit grommets are red as opposed to brown. Fourth, the Amer. Sports jackets had knits that were much more reddish than the standard brown knits, an attribute that I find very pleasing.

The specific jacket presented here is in incredible condition considering that it is 63 years old! The mis-matched vegetagble tanned goatskin is grainy, soft and supple with a somewhat shiny top coat similar to that employed by the Edmund Church M-422A jackets. The leather is in superb condition and looks to have been barely worn and has no stitch marks.

The collar has the pointed tips reminiscent of the M-422A jackets which it replaced, however, it is slighly smaller in size, another attribute of the AN-6552 that I find incredibly attractive. The mouton is perfect and has barely faded which is another clear sign that this jacket has been worn only sparingly. The original brass, black painted Conmar operates flawlessly and even the male end is in perfect condition. The waistband and cuff are original and have only the slightest mothing...good thing too as it would be near impossible to match these cool reddish knits with anything currently offered ion the aftermaket. These are the ebst knist I have yet to come across on a 60+ year old jacket!

As would be expected of a size 44 garment, the jacket is well proportioned and fits me well at 6'1"/200lbs. In fact, it is almost the same size as my size 46 AN-6552 from the same contract. The pit to pit distance is slighly smaller but the body is actually about an inch LONGER than the size 46! The cut and drape of the jacket, owing to the incredibly preserved goatskin, is flattering as well as functional.

In sum, this is an incredible time capsule of a completely origina, near mintm, World War II era flight jacket!

Size & Measurements Size: 44
20" - Shoulders (straight across back at sleeve juncture)
23 1/2" - Back between arm pits (jacket zipped, bi-swing not expanded)
24" - Front between arm pits (jacket zipped, bi-swing not expanded)
26" - Back length (base of collar to bottom of waistband)
25" - Front length (top of zipper to bottom of zipper box)
27 1/2" - Sleeve (shoulder seam to end of cuff)



I provide full measurements (taken on the outside of the jacket) so that you can determine if it will fit. I can not be responsible for items that do not fit so please study the measurements and compare with other jackets/garments that fit you!
Condition
Goatskin: Vegetable tanned brown colored goatskin in simply incredible condition. The leather is soft, supple and strong with no flaking, holes or objectionable odors. No patches have ever been sewn on the jacket and it looks to have hardly been used.
Collar: Awesome, full honey/rust mouton with pointed collar tips reminiscent of the M-422A jacket which it replaced. The collar is free of bald spots, thinning, dry areas or matting.
Lining: Original maroon ling with no odors or staining. Theres is one samll rip in the body of the jacket that I have left alone as it does no appear to be spreading. The lining and label are both strong and readyb for another 63 years!
Waistband: Excellent original reddish single ply wool waistband with several moth-style holes that have been darned. The waistband is strong and stable.
Cuffs: Superbe original reddish wool cuffs in near perfect condition. These are unquestionably the best cuffs I have come across on a WWII era jacket.
Zipper: Original brass black painted Conmar zipper on brown tape with a bell shaped pull in perfect condition. The black paint has worn off the slider but is still present on the stopper box and teeth! The male end at the bottom is also perfect without even a hint of fraying! No missing teeth and super smooth oepration.
Buttons: All original buttons are present excpet for one under the collar and in excellent condition
Stencil: Yellow "US" stencil (unique to the AN-6552 and AN-J-3a) on back of mouton collar is still present.
Windflap: Angled windflap per spec
---
Detailed Photographs
---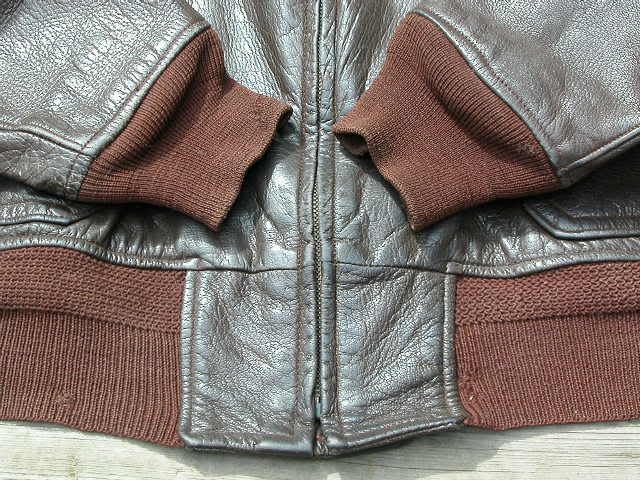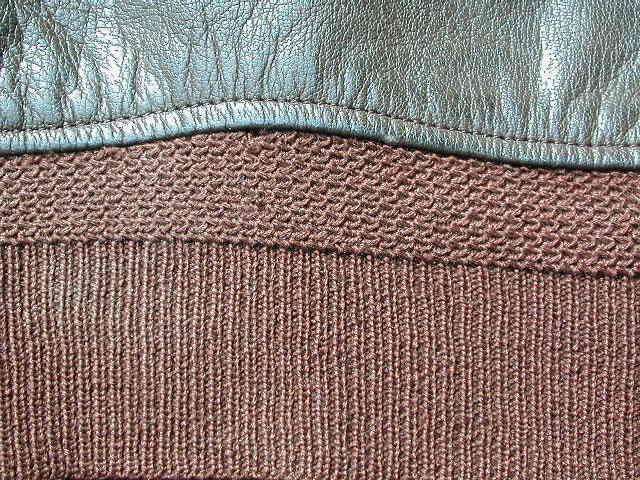 Last updated 6.6.2007